Running a BMX track requires so-much-more than just dropping the gate on race day.  At every track, there is a committed group of volunteers, who put in many, many hours of time during the week, and set an early alarm on race day to ensure things go smooth (even when, sometimes, they don't go-so-smooth).  The Hill has a world-class group of volunteers who make our program the success it is.
Below are the "Staff Volunteers," who take-on the major responsibility of running the track.  Before we introduce them, it's important that you know that there are dozens-more, who set the same early alarm to make it happen out here, practice after practice, race after race, year after year.
You will meet many of those people in our "Volunteer of the Month" posts, and we encourage you to pull-them-aside, and give them a private "thanks!," for an effort that is largely "thankless."
Allow us now, to introduce the Staff of The Hill BMX.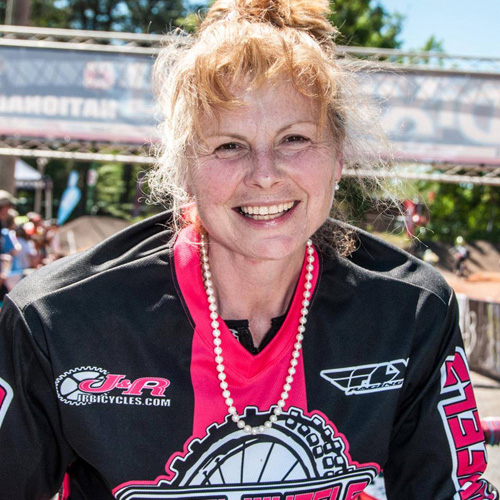 Jackie Altizer
Track Operator
Jackie is not only Track Operator of The Hill, she is also TO and founder of Steel Wheels and Imagination Glen BMX in Northwest Indiana. She is the one responsible, for saving The Hill from the proverbial wrecking ball, in 2014, and is actively-involved in keeping our track, on-track, to this day.  Away from BMX she is a Commercial Flight Attendant, dedicated mom, nana, wife of 43 years and USMC veteran.  Jackie is an amazing leader of The Hill BMX, and always-available to assist riders and their families, in making their time in BMX Racing the most rewarding it can be.
JoAnne Mulvihill
Assistant Track Operator
JoAnne has been a volunteer at The Hill since 2014, when Jackie stepped-in to save the track. In her eight-plus years serving the families of The Hill, she has worked virtually every-position in the operation of our program.  To this day, you'll see her in concessions, registration, at the finish line scoring races and much more (all on the same Race or League day).  Behind the scenes, she is our "operations" rock, handling scheduling, race management and answering your questions about our program.  All this, and a career woman in the marketing industry, plus a loving wife, mother and grandmother.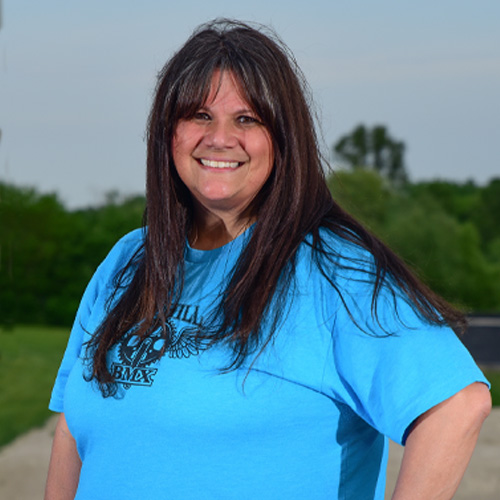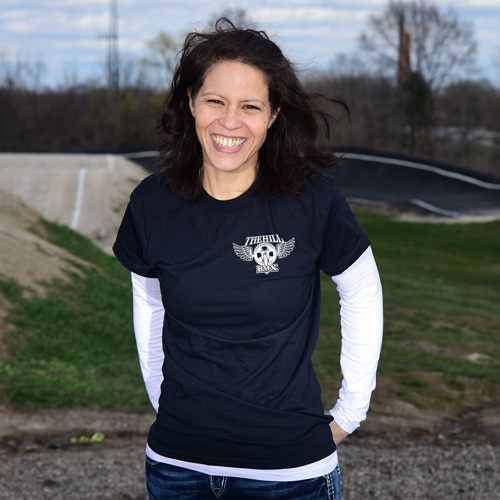 Julie Kuffer
Finance
A tax accountant by training, Julie brings decades of experience in finance to our operation; as well as the type of organizational skills for which accountants are so well-known. The Hill (via it's management entity, the Elgin BMX Riders Association) is a 501(c)(3) nonprofit organization, and Julie makes-sure the necessary filings are done in a timely fashion…plus the endless USA BMX paperwork, and all the rest behind the scenes. Julie and her family came to The Hill via our "Elgin BMX League" program for Beginners.  Her sons, Hayden and Cole, are active racers— both at The Hill and on the state and national circuits.
Dustin Rogers
Registration
Dustin has put in countless hours both at the track and at home to help us bring a better race program to our track families. In addition to being an active racer himself, he recently stepped-up to contribute a higher degree of involvement in our race management area.
This area of track management is an essential part of making the gates drop on time– what some might call "the little details." We know Dustin will do a great job in his new role, and hope you will welcome, and thank him for making The Hill a better place to race.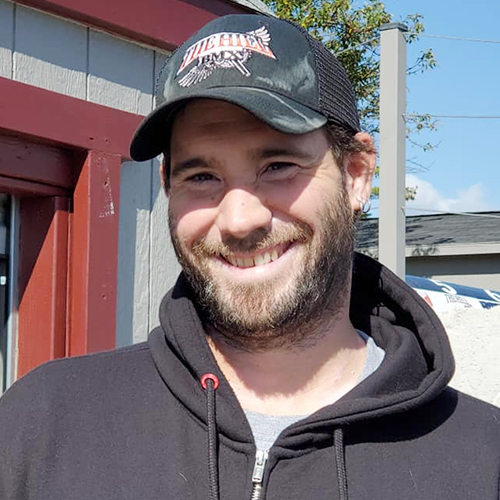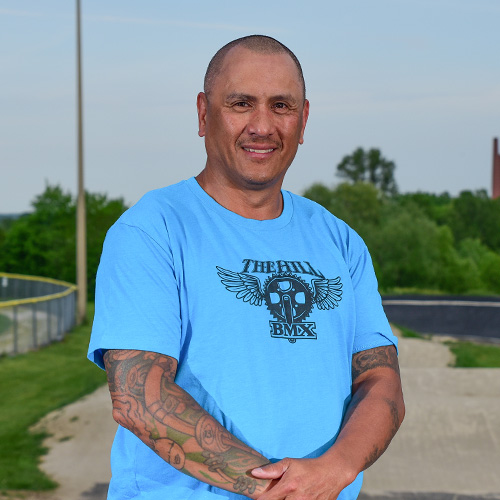 Andy Zbilski
Track Maintenance Supervisor
Looking at the "before-and-after" photos of The Hill 10 years ago, versus today, it is clear that a whole-lot of TLC was, and continues to be, showered upon the track.  An army of passionate volunteers, headed by Andy— and Wes before him— are the ones responsible for making The Hill what it is today. On, and before, race day, you will see Andy out on the track, rolling, shaping, striping, and watering, to make the racing surface the best it can be, for our riders.  Andy is not-just rakin' and shapin'…he, and his son AJ, are out there racin', every-week, just like you! Andy (and AJ) have been racing BMX for about six years.  In his free time Andy enjoys watching movies, and spending time with his family…but says his first Passion will always be playing billiards.
Benjie Tramblay
Concessions Manager
As Concessions Manager, Benjie is the CYO ("Chief Yumminess Officer"), at The Hill. She is the newest member of our staff group, and her talent, passion for service and experience in the foodservice industry make our concession stand among the best in the Midwest (and beyond). Benjie, and her husband Rob (whom you will see high-atop our starting hill as Gate Starter) came to BMX, with their Grandson, Aaron, who has moved well-beyond those early days as a Beginner, to be a competitive expert rider.