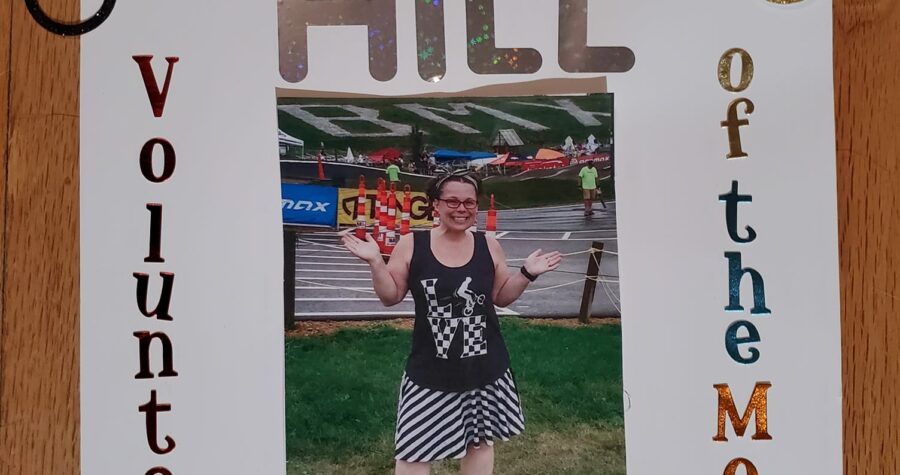 August 2021 Volunteer of the Month
Comments Off

on August 2021 Volunteer of the Month
As you all may know, The Hill runs 100% on volunteer power. The people who work hard to put on races day after day and week after week volunteer their time while they are at the track as well as when they are away from the track. And we appreciate every volunteer that helps keep The Hill BMX running.
We would like to recognize one such volunteer as our Volunteer of the Month for August 2021.

You may see Dee running around helping on race day, or on the track in a tutu. She's been planning an empowering Ladies night at the track on Sept 25th.
We caught up with her after last week's race and asked her about her experiences and here's what she said:
"Tell us about yourself"
As my friends says, 'Dee is an Art Teacher by day, BMX racer by night!' I live in South Elgin with my husband Chris and two step-sons Ezra and Riley. I teach at Westfield Middle School & Elgin Community College as well as run Socks & Souls. I have an odd fascination with skeletons and I absolutely love to eat! Some call me dynamic, others call me eccentric!
"What is the most rewarding part about volunteering at The Hill?"
The racers and their family members calling your name when they see you so they can give you a fist bump or the racers running to find you after a race just to tell you how they did in their moto!
"What is your current volunteer job at The Hill?"
"Whoo-Hoo" track yeller when racing 😊 Otherwise I help out with Concessions, Trophies, Scoring, Staging, or wherever else I am needed.
"How did you get into BMX?"
One day we passed the 'BMX Racing Today' sign while driving by the golf course and the rest is history as once one of our sons got involved, we all did so now we are a family of 4 all racing BMX!
"What do you do in your free time?"
Enjoy food and tend to our pups Whoops and Cross.
If you see Dee around the track, make sure you give her a fist bump or a high five and thank her for all she does to help week after week.
Thank you Dee, for everything you do for The Hill and the staff and Volunteers!
If you see one of our volunteers going above and beyond, please message us so they can be recognized.